How To Create 360 Spins For Motorcycles – CloudPano Automotive 360 Spin Software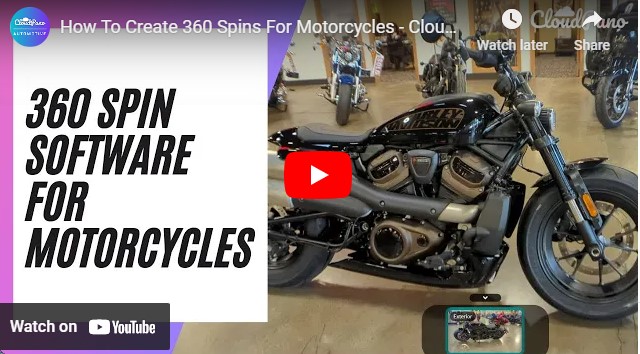 How To Create 360 Spins For Motorcycles – CloudPano Automotive 360 Spin Software
Are you in the market for creating an interactive 360 spin for a motorcycle? Look no further!
My name is Zach Calhoon and I am here to show you the technology that can bring your motorcycle dealership to the next level.
With the CloudPano automotive app, creating an interactive 360 spin of a motorcycle is easy and simple. Not only can you add engaging elements such as videos or pictures, but the buyer can also move left and right and change the angle to get different views of the motorcycle.
Creating a 360 spin is as easy as walking around the vehicle and capturing a video in our video capture exterior mode. The app will then convert the video into an interactive spin so you can easily add extra media to it, such as still images or 360 images of the seat, or a video in full 360.
Our app also allows for integration with your website provider, so the motorcycle can instantly appear on your website through a button or even take over the container. We can also work with you as an enterprise partner and get a custom script on the site.
Not only is the CloudPano automotive app easy to use, but our web-based platform offers even more advanced options such as lead generation elements, live video calls, and the ability to capture leads and send them directly to your sales team or CRM.
If you're interested in adding this technology to your motorcycle dealership, book a call with our team to discuss further and find out the most efficient ways to create an interactive 360 spin. Don't miss out on this opportunity to take your dealership to the next level!