New Features! Splash Screen and Watermark Upgrades. How To Add a Play Button To Your 360 Tours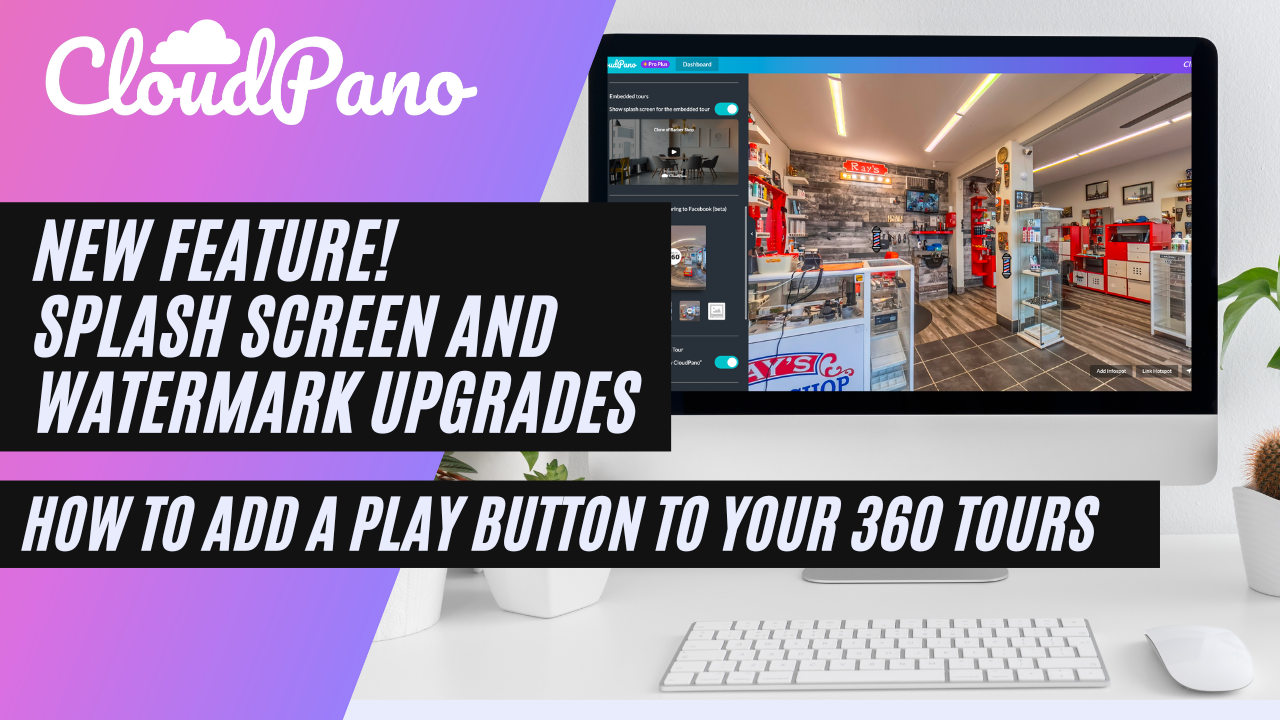 New Feature! Splash Screen and Watermark Upgrades How To Add a Play Button To Your 360 Tours
Hey there! It's Zach Calhoon from CloudPano.com, and I hope you're having a great day. Today, I'm excited to share with you two new features we've released on CloudPano that make 360 virtual tours even better.
When you log into your CloudPano account and start editing your 360 virtual tours, you'll notice some new features in your brand kit. Below the "setup your white label URL" option, you'll see a new embedded tour feature called a splash screen. This looks like a play button that only opens up the tour when someone clicks on it. This is useful in situations where you only want the tour to load when someone clicks play.
We've also upgraded our watermark feature and made it more prominent on virtual tours. The default watermark message is "Powered by CloudPano," but you can customize the messaging and link out as well.
To give you an example of how these features work, let's say you have a blog post on CloudPano.com and you've embedded a 360 virtual tour. Without the splash screen feature, the tour would open up as soon as the page loads. However, if you want someone to click for the initial engagement, you can turn on the embedded tour splash screen option in the brand kit. This adds a play button to the virtual tour, and it will only load when someone clicks on it. This can be useful for websites that want to optimize for speed but still have engaging elements.
To make the embedded tour bigger, you can use the custom JavaScript embed code that's provided in the share icon.
If you're interested in using these features for your virtual tours, sign up for a pro plus membership on CloudPano.com today. With CloudPano, you'll have access to the world's best 360 virtual tour software.
Thanks for reading!
Follow These Next Steps:

#1 – Register for an upcoming webinar: Free Webinar → "How To Start a Wildly Profitable Virtual Tour Business and Get High Ticket Clients To Come To You ​Without Hard Selling Or Buying a Large Camera System" Register for an upcoming time, click here: https://virtualtourprofit.com/index.html
#2 – Upgrade to CloudPano Pro Plus -> click here https://www.cloudpano.com/add-to-cart
#3 – Join the Facebook group 🏡 Virtual Tour Profit -> https://www.facebook.com/groups/virtualtourprofit